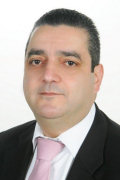 Lebanon
+961 1 897020
This email address is being protected from spambots. You need JavaScript enabled to view it.
Mr. Bachir Zoghbi is the owner and Managing Director of Soft Flow — a Lebanese IT and business solutions consultancy company based in Lebanon. Soft Flow offers Business Intelligence and SharePoint solutions, along with Infrastructure Key Implementations all over the Middle East.
For more than 8 years Mr. Zoghbi has taught MIS to MBA students at the Paris Dauphines Business School for International MBA in Lebanon. He has participated in more than 50 seminars and executive workshops on Management, Sales and Analytics. His recent focus is on emerging CI practices for various sectors in the Middle East.
Mr. Zoghbi also introduced and managed the"SAP Academic Program" at "USJ", one of the first and most well-known universities in Lebanon. Currently he is leading and managing three professional services and consultancy companies in Lebanon, Saudi Arabia and Canada.
Bachir Zoghbi has an engineering degree from "ESIB - USJ Lebanon" and an International MBA from Paris Dauphines. He attended two executive education programs at Harvard University, USA.