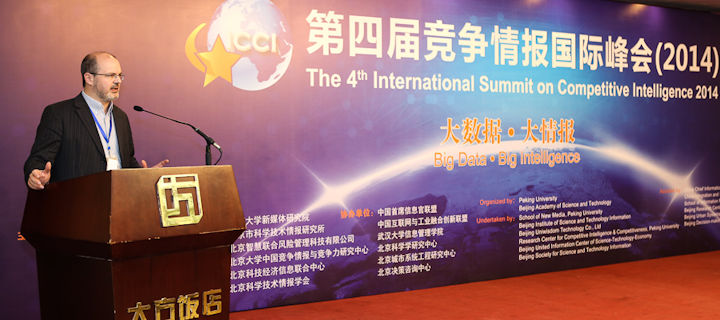 Rainer Michaeli, director of the Institute for Competitive Intelligence (ICI), visited the conference in China organized by BJAST (Beijing United Information Center of Science-Technology-Economy).
During his visit, Rainer Michaeli was able to establish a strategic cooperation agreement between BJAST and ICI. This cooperation will open the door to offering ICI's workshops and certificate programs in Beijing, China as well.
A first series of ICI's 10 days Fundamentals of Competitive Intelligence (FCCI) program is scheduled for spring and autumn this year. This program incorporates the basic tools and techniques for CI professionals. Participants will be able to enhance their level of productivity and master challenging CI projects.
BJAST, established in 1984, is China's largest local multi-discipline, comprehensive and cross-industry scientific and technological research institute. BJAST has persisted to bring the high-end, highly-effective and highly-influential supporting functions of scientific research institutes into full play. The strategic development objective of BJAST is striving to be municipally-important, nationally-famous and worldly renown.
ICI was founded in 2004 to provide postgraduate professionals with a solid and flexible competitive intelligence training program to become a certified CI Professional. ICI offers a modular educational program that prepares attendees for the high demands placed on market and competitive analysts. This program is the only ISO 29990 certified educational program in the world.
Rainer Michaeli, director of ICI, is very excited about this new cooperation. "BJAST, an organization with focus on research and innovation is a perfect match for ICI to grow even stronger and expand our international playfield. We pin our hope on a long and enduring relationship with BJAST."
Eric Wong (BJAST) strongly believes that innovation is the key to success. "ICI is an international orientated company with academic resources and training programs. Their focus on training attendees to implement unique research tools fits perfect to the business objectives of BJAST. We strongly believe that both of our organizations can benefit from this cooperation. We are very much looking forward in working together."