Institute for Competitive Intelligence - Your career begins here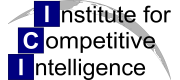 The Institute for Competitive Intelligence was founded in 2004 to provide professionals with a solid and flexible competitive intelligence training program to become a certified CI Professional.
Our workshops are available in English and German. We serve 4 continents, 10 countries and 15 cities. No other organization runs more Competitive Intelligence workshops annually than we do! Check out our Insight Center to find interviews, presentations and webcasts on the subject of CI!
Our general principles are uncompromising education quality and intensive, practical-oriented learning. ICI offers a modular educational program that prepares attendees for the high demands placed on market and competitive analysts. You can select the certificate program or choose particular workshops according to your interests or requirements. We offer customized in-house training to companies.
Your Competitive Intelligence career begins here!
Quality and practically orientated learning
The Institute's faculty are renowned experts with long histories in corporate environments. All courses can either be completed as part of integrated certificate programs or can be completed as stand alone classes. The relevance and timeliness of all courses are constantly reviewed by an international advisory board.
Flexibility
You decide when you want to take which course. You may choose to take individual courses ac­cording to your availability to begin with and decide to aim for certification later. All courses are independent, and as such are valuable assets in their own right.
Case study methodology for the real business environment
Case studies are the preferred teaching method of all leading business schools. Through case studies, you will not only learn about many industry sectors and methods, but also improve on your interpersonal skills.
Certification
ICI confirms that its highest certification level – the Certificate of Proficiency in Competitive Intelligence (CPCI™) – comprehensively covers the competencies identified by the Strategic and Competitive Intelligence Professionals (SCIP) Body of Knowledge (BOK) education program. The BOK program of core competency domains was developed in 2008 to define the core skill set for Competitive Intelligence professionals.
Alumni network
Become part of the unique network of ICI alumni. Here, experience is shared and net­working op­portunities provided. The alumni website contains exclusive information on current Competitive Intelligence content and a discussion fo­rum.

Our services
As a leading Competitive Intelligence educational institution, the Institute for Competitive Intelligence offers you an appropriate range of training:
Certificate programs
The Institute for Competitive Intelligence has developed seven certificates for highly qualified professionals to master the core competencies of the demanding Competitive Intelligence profession and employ them directly in their businesses.
ICI confirms that its highest certification level (CPCI™) comprehensively covers all competencies of the SCIP Body of Knowledge.
Our lecturers are practitioners and leading ex­perts in their fields. They convey proven Competitive Intelligence methods and the corresponding implementation know-how - knowledge that will make you indis­pensable to your business.
In-house training programs
ICI offers customized in-house training. In preparation for the training, a detailed assessment of the CI demands and needs of your company will be completed. Based on this assessment, a customized CI program will be developed, tailored to your individual needs.
Not only the employees of the CI department(s) of your company are trained, the program is also offered to the internal CI user network, e.g. from sales, marketing and R&D. Competent colleagues with a collective understanding for CI are a major success factor.
Single workshops
You would like to enhance your understanding of specific Competitive Intelligence tools and theories? Then book our open workshops. We will give you advice on available options.
International Competitive Intelligence Conference
Since 2009 the ICI has organized annual international CI conferences. The perfect place for networking with peers and updating your skills.
Questions?
Please contact Ms. Karin MacKenzie:
Tel: +49(0)6033 971377
E-Mail: This email address is being protected from spambots. You need JavaScript enabled to view it.