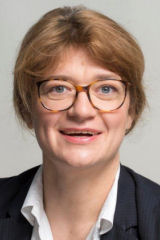 ICI-27 Competitive Technology Intelligence (CTI) (EN)
ICI-37 Critical Thinking and Creative Problem Solving (DE/EN)
Ursula is an expert in Innovation, R&D and Production engineering, and a seasoned Project Manager.
She led international R&D and Production projects in the automotive industry and coordinated multicultural, multilingual projects involving up to 100 collaborators (from production workers to executives) in Europe, Latin America and Asia.
She obtained remarkable results in time to market shortening (up to 30%) and cost killing (up to 50%).

Her deep engineering expertise combined with her musician upbringing and education, made her a creativity champion and a genuine advocate of open-innovation, business & competitive intelligence and critical thinking.
Today she leads the Open Innovation Think Tank of the French Innovation Watch network Innocherche and is launching her consulting company - CABINET URSULA TEUBERT SAS.

Ursula holds an INSEAD Global Executive MBA (2011 – 2012 France/Singapore/Abu Dhabi). She previously graduated in a Master in Mechanical Engineering at the Technical University of Darmstadt (1991 - 1997 Germany) and validated a Thesis at the INP Grenoble – ENSHMG (1995 – 1996 France).