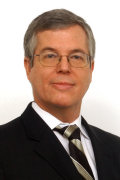 ICI-1 Competitive Intelligence Basics Workshop (EN)
ICI-5 Dynamic Communication and Elicitation Skills for Competitive / Market Intelligence Professional (EN)
Mr. Potter is general manager of Bennion Group, where he has led the company's business development and intelligence process consulting since 2001. He is a Magna Cum Laude graduate of the University of Utah and Johns Hopkins University. He is the former head of the BellSouth Intelligence Resource Group, and has helped design and develop the intelligence processes of major corporations around the world. Early in his career, Mr. Potter served as Director of Marketing and Strategy for mid-sized technology and process consulting companies.
Kent is also a former US Army Intelligence officer. He has twice served as company commander for different intelligence units, and as the Special Agent in Charge for the Army Field office responsible for Counterintelligence and Counterterror in the Washington, D.C. region.
Kent is a frequent speaker and writer on the subjects of business influence strategy, business intelligence, scenario analysis, wargaming and related concepts. He has conducted seminars and workshops on these subjects in North America, Europe, Africa, and Asia.