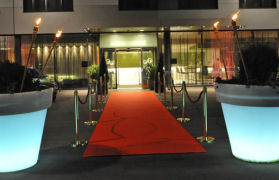 Hotel Roomz Vienna
Paragonstraße 1
1110 Vienna
Austria
Phone: +43 1 7431 777 20
Website

Description
First mention of the castle was as early as 1233. In 1971 it went through extensive renovation and was converted into a hotel. The most recent refurbishment in 2004-2005 has transformed Hotel Schloss Weikersdorf while retaining its heritage. Exclusive and refined, it offers all modern facilities as well as a spa.
Leisure Facilities
Indoor swimming pool, caddy room, outdoor and indoor tennis courts, Bio und Finnish saunas, bowling alley, spa
Arrival
Railway Station Baden near Vienna: 3km
Int. Airport Wien Schwechat: 33 km
Wiener Lokalbahn (to Vienna): 0.5 km
Check the hotel website for details:
http://www.hotelschlossweikersdorf.at/ahi/hotelschlossweikersdorf/pdf_files/location_de.pdf
Room booking
For registration, please contact the hotel directly! If you have any questions about the accommodation or journey, please call us. We shall be happy to be of help.