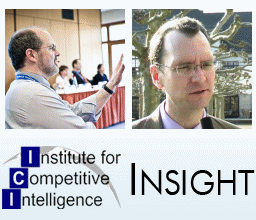 Insights from CI experts for CI experts
Choose from the following categories:
Webcasts
Conference Presentations
Expert Interviews
Our webcasts are comprehensive and up-to-date overviews of specific competitive and market intelligence topics. They include full recorded webinars, expert talks, and interviews. Also see our upcoming webinars to be able to join the live discussion.
Watch high quality presentations just like you would do when attending a conference. The presentations include a video and slide track which you can watch simultaneously or switch between.
Renowned experts talk about hot topics in competitive and market intelligence (CI/MI). They summarize the key success factors for CI/MI, talk about do's and don'ts for specific tools and techniques, and outline the specifics of certain industries when conducting competitive and market intelligence.